THE ASSOCIATION
With the Barça Legends in Manchester
The match between the Barça Legends and Manchester United draws a crowd of 30,000 fans to Old Trafford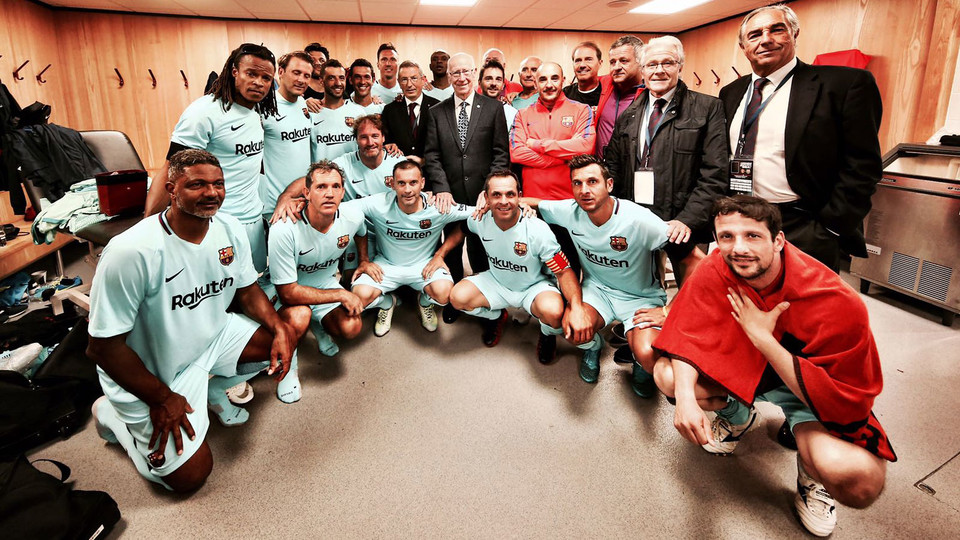 The Barça Players Association (BPA) accompanied the Barça Legends on their trip to the United Kingdom. Ramon Alfonseda, BPA President, and Eduardo Juan, BPA Director, led the touring group along with Pau Vilanova, FC Barcelona Director. "The welcome from Manchester United was brilliant, they treated us really well. Very big players took part and there was also a lot of media attention", said Juan.
The Barça Legends couldn't come back at Old Trafford after the 1-3 win that Manchester United took from the match at the Camp Nou, although the Azulgrana got a 2-2 draw from a game that seemed all but lost. Gaizka Mendieta and Luis Garcia got the goals that were worth a draw in the final stages of the match. However, the day was about more than just what happened on the pitch.
Eduardo Juan also recognised the fact that the event served to bring the Association closer to Barça. "It showed that we're not two different organisations, but one which is working in the same direction. The good experience together was very meaningful", he concluded. This experience, according to Juan, is proof of the BPA's reach, and bodes well for the organisation of further events in the near future.
Amongst the various acts which took place, the Association touring group were able to meet two Red Devil legends: the former Manchester United and England international footballer Bobby Charlton, and former manager and player Sir Alex Ferguson. A special dinner was also held, with current Manchester United player Juan Mata in attendance, as well as Gaizka Mendieta, the former FC Barcelona player who ended his playing career in the Premier League wearing the colours of Middlesbrough.
The match also saw 'Chapi' Ferrer's make his debut as the Barça Legends head coach, after taking the reins from Jose Mari Bakero on the bench.