THE ASSOCIATION
FC Barcelona ex-players run a football clinic with 200 children in Lesbos
The Association and Foundations' day in Greece reaches its half-way point. The Blaugrana touring group visited the refugee camp in Kara Tepe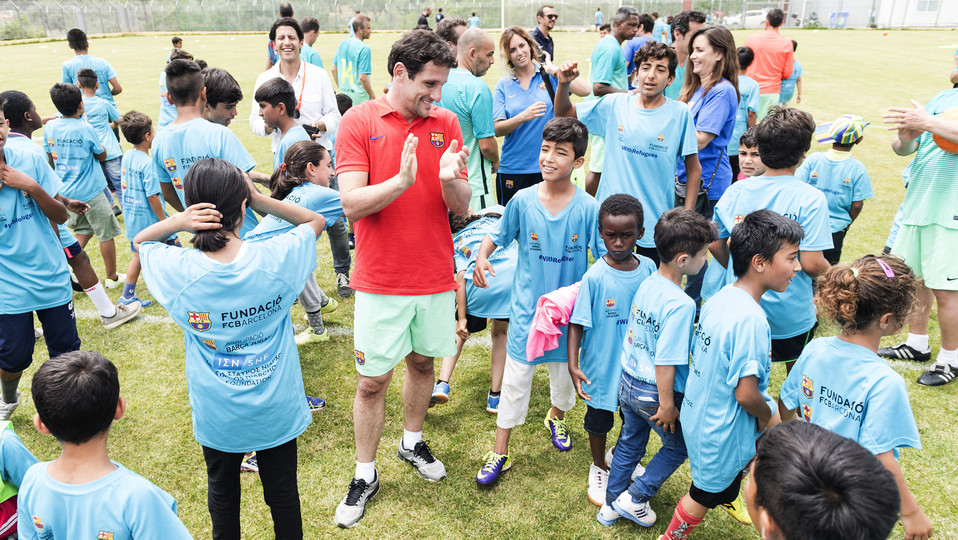 The Barça Players Association and FC Barcelona Foundation touring group have now completed the first half of their solidarity day with refugees in Lesbos (Greece). On Thursday morning, the team of FC Barcelona ex-players ran a football clinic with 200 local children and children from the refugee camp in Kara Tepe.
Some fifteen BPA members acted as monitors for the girls and boys at a clinic which was also attended by their parents. Volunteers from the Sravros Niarchos Foundation, sponsor of the day, also contributed to the success of the clinic.
Prior to the clinic, the Blaugrana touring group visited the refugee camp in Kara Tepe, in the capital Mitilene. Most of the 1500 people living in the camp are of Syrian and Afghani nationality and are fleeing the war in their countries.
The day is expected to culminate this afternoon in a veterans match played with a selection of Greek ex-players and it will be played at the Mitilene stadium. Today's action intends to promote social integration and raise awareness in the international community about the situation in which thousands of refugees in Greece find themselves, waiting to be placed in the rest of the member states of the European Union.
Last November, the Barça Players Association organised a solidarity day with the refugees in Greece. On that occasion the action was managed in conjunction with the United Nations High Commissioner for Refugees (UNHCR) and took place in Ioannina.